Most people recognize Andy Warhol's portraits. Half-painted, half-screen printed. Square (40″x40″), bold colors, but with low-fi black line work.
Some interesting reading about his Polaroid portraits can be found in this Artland.com article, and more about the Warhol and the screen printing process here at the Andy Warhol Museum website.
Warhol commissioned a lot of portraits, and for most, the process started with a Polaroid picture. He used several Polaroid models, but his favorite seems to be the odd Polaroid Big Shot. The plastic big nosed Big Shot was essentially a portrait-only camera. According to an article by Marco Livingstone in ANDY WARHOL, A RETROSPECTIVE, Warhol's procedure was as follows:
Once he had finished taking the Polaroids, Warhol would listen to input from the sitter and whoever else was on hand before selecting the images he was going to work from. The Polaroids were then rephotographed in 35mm, printed as 8×10 inch acetates, and eventually enlarged to 40×40 inches as preparation for making a silkscreen. During each subsequent step, Warhol frequently instructed his assistants to alter the image. "Now I'm trying to put style back into them," he said.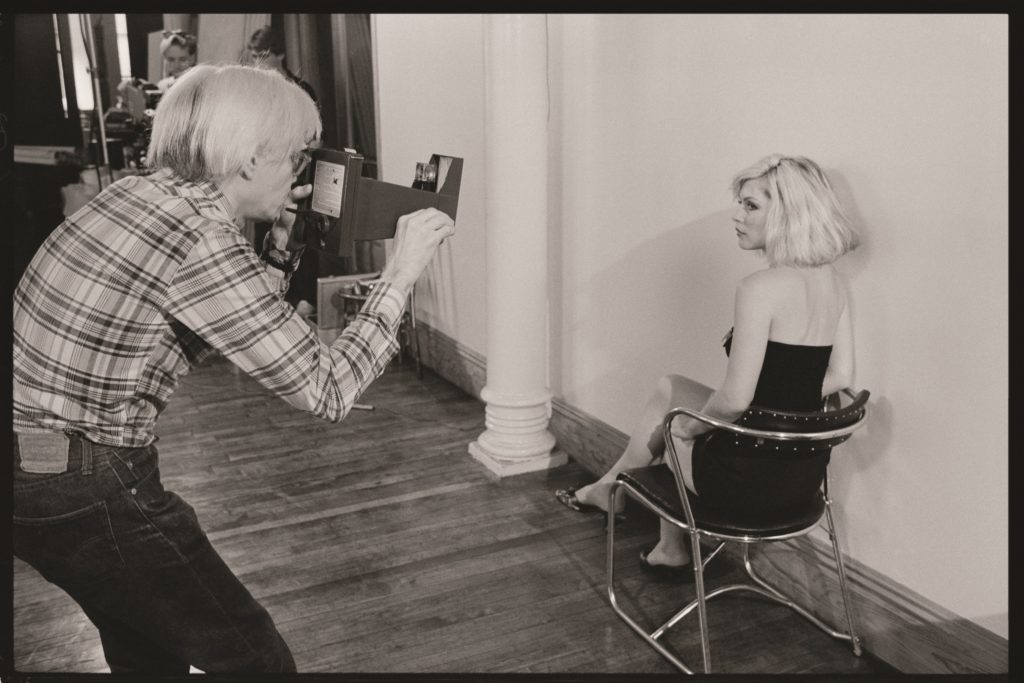 ---
Re-Creating Warhol's Method
To recreate the Warhol process, I think you would need these items:
Polaroid Big Shot camera
Magicubes for flash
FujiFilm FP300C film
Film positives for creating the screen image
Screenprinting screen(s)
A scoop-coater to apply emulsion to the screen
Photoemulsion to coat the screen, and to create the image stencil
A light source (or the sun) for developing the image
Squeegee for spreading the ink
Ink (acrylic?)
Canvas, canvas board, or stretched canvas
A method for registering the screen with the freehand painting